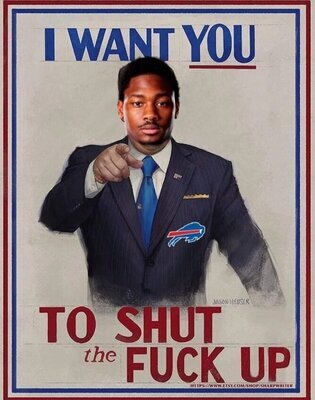 JDubya76
Community Member
Posts

2,602

Joined

Last visited
Gallery
Profiles
Forums
Events
Everything posted by JDubya76
Wait a few minutes and check for a flag……………

Thank heaven for Toney. Delaying the inevitable

He would have to look like he gives a sh*t. Doesn't look like it in this game.

That was the worst coaching and playcalling that I have ever seen in my 51 years on this earth. Terrible, fireable.

Pathetic time management here, just pathetic

Jesus we're gonna run 3 plays in 12 seconds aren't we?

Couldn't stop us when running Cook behind a pulling Morse. Bills answer…….let's not do that any more.

So undisciplined, so lazy by our tackles

Wow, that doesn't pass the eye test

Thank God Murray was out there instead of Cook

Davis can't even grab the fumble

Sure handed Davis there, big play Gabe

Cook has been running the ball well all game why 17 on the QB draw there?

Did Von do something? Nope

I can actually hear the defenses death rattle from my couch

I have never see a WR bubble screen as consistently contested as ours.

I saw that, 3rd and 3 and we pull our best receiving back

Don't get a stop here, this could get ugly.