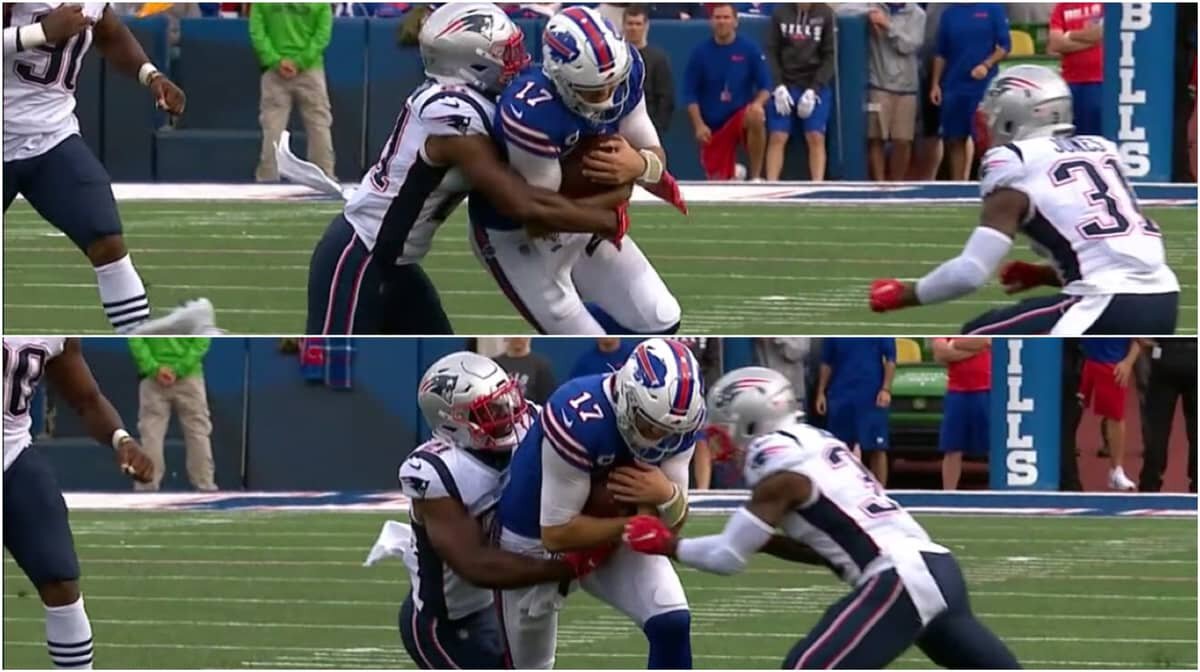 Posts

3,552

Joined

Last visited
Gallery
Profiles
Forums
Events
Everything posted by Dr.Sack
Brady hit my fantasy RB for the winning score so that's the only thing cool with the outcome.

I think Brady needs another DPI

Hamlin would be ejected for same hit.

Brady gets more flags than Sean Hannity. How many times does Allen get any of those flags?

What a great mini bye week. 2017 San Diego Chargers 🐐level.

Brady looking like Nathan Peterman. 🥸

About to be 12 games into the season with a .416 winning % and still the division leader. Brady is the luckiest man alive.

Tom Brady is Russell Wilson. Great defense, horrible past their prime QB.

Is an absolute joke out there at 45. He's deflating his aura and cheating his legacy.

Brady doesn't have an arm or ability to avoid the rush.

Mahomes has yet to play a road playoff game, in his first 5 seasons. The question remains, can Mahomes win a road playoff game?

Brady averaging 4.72 yards per attempt. Can he turn things around?

I have greater confidence in Wilson and a great defense beating Mahomes, than Brady at home beating Burrow.

No. Mahomes's contract isn't totally cap friendly. Hill wanted a new deal, but the Chiefs wanted to waste the final few seasons of prime Kelce. Now age 33 Kelce is incapable of carrying the entire burden of the pass offense, necessitating the new wrinkles we have witnessed from KC's offense. Outside of dominant 3rd Qtrs where Reid figures out counters to defenses the Chiefs are not scoring at 2018-2021 levels.

The Bills defense is better so I imagine it would be a different game.

Andy Reid seems unwilling to call 15 consecutive runs if the defense warrants that play call. I don't put this loss on Mahomes, I put it on Andy "Choke Artist" Reid. Think about this: he's blown 5 seasons 2017-2021 and won only one Super Bowl (should have lost to SF) with the "best QB, TE and WR" duo in NFL history. Reid traded away a prime Hill preferring mediocre JuJu and Valdes-Scantling rather than go for a title. What a joke.

Mahomes plays a rough Denver defense how many more times? Not saying Denver can win, but I'm sure they will deliver some lumps.

Gabe put on 10-15 lbs of muscle this offseason. It's obvious it hasn't hindered his straight line speed, but his change of direction / fluidity in and out of breaks seems a bit dull. Case in point recall Diggs TD catch, Herbstreit pointed out that Davis ran a similar route later in the end zone and it appeared the to me the route wasn't as sharp in terms of the cut, Davis rounded his route. That may indicate his ankle is still bum or his ability to change direction is simply not as good at this point in his career as Diggs.

Crowder is valuable, Stevenson could be the new McKenzie jet sweep guy along with Hines.

Enjoy playing in front of 30,000 fans at Gillette for the next decade.

Josh became Tommy yesterday. Josh "Death By 1,000 Cuts" Allen.

Dane Jackson is a better tackler, while Elam is better in man coverage when we are forced to blitz to create pressure.