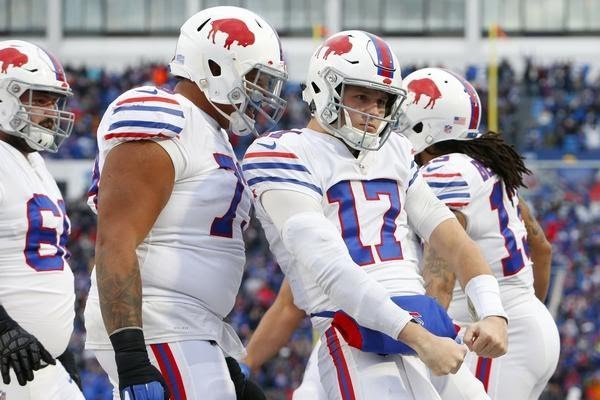 Bill Murray
Community Member
Posts

285

Joined

Last visited
Bill Murray's Achievements

Rookie (4/8)
For football its hard to argue against Jim Kelly for a number of reasons, but the best bills player of all-time at their position is undoubtedly Bruce Smith. Remains (in debatable order) top two or three defensive ends of all time.

Diggs similar, maybe down or up by less than 20 REC, sanders up, Knox up, McKenzie up, Beasley a big question mark at this point

the question seems to imply "regress" = worse numbers, which i think he will have slightly worse numbers. But i think he will be as good if not better a QB, and i think he wins league MVP.

On the defensive side of the ball there are LOADs of guys that would have been considered better if the team had an adequate offense and actually won something. the 1999 Bills D finished 1st in yards allowed and 2nd in pts allowed. The 2003 and 2004 Bills were 2nd in yards allowed in consecutive years. Lot of players no one outside of Buffalo has ever heard of that were really good. some random examples off the top of the head: London Fletcher Terrance McGhee (all-time return man too) Kyle Williams Sam Rogers Sam Cowart Henry Jones

After reading the subject i thought to myself "Eric Moulds" as i clicked. 9 catches for 240 yards and a TD in a loss at miami in the 1998 wild card game speak volumes to a) how good he was and b) how his talent was somewhat wasted.

Agree the Bills drought should be reasonably high on the list but probably not near the top. The drought was impressive because of its duration, but really it was a period of mediocrity rather than compete ineptitude. The Bills had one 3-13 season and one 4-12 season. The bulk of them were 6-10 and 7-9 with a couple 8-8s and 9-7s mixed in. Teams like the Browns or Bengals which had multiple top 5 draft picks to help turn things around were more inept even if they did have the one-off wild card birth during their run. Edit: I just looked it up and forgot about Courtney Brown meaning the Browns had four(!) #1overall picks from Tim Couch in 1999 to Baker in 2018. Also interestingly, they had back to back 1st overall picks both times (Couch 99, Brown 00, -> Garret 2017, Mayfield 2018)

cant wait for the 2021 installment of the 🧹🧹🧹

OK, lets review the play by play: OP: someone thinks TE is good and thinks he can win DPOTY TBD et all: He sucks me: Hes young and has his career ahead of him still you: "he will command a big contract in 2 years...maybe we should sign him on HOPE /sarc" me: Thats ridiculous and not what i said , let him play and lest see what happens you: [outrage] youre just like all the other crazies on here [editor note - its the crazies that want to run him out of town 3/5th of the way through a rookie contract]

LOL. signing him on "HOPE" is almost (but not quite) as dumb as judging him as a failure now instead of letting him play and see how it goes. you are saying he wont be worth a new contract after the 2022 season without seeing the next two years on his rookie deal? what did you think about Josh Allen entering last year? The hate toward the kid is unjustified, and the hot takes that he is failure and his career is over should stop, thats all.

Lot of Edmunds hate on here. For the people writing him off and saying we need to move on, to put things into context, Edmunds is 7 months *younger* than Boogie Basham our 2nd round pick this year. He has his entire career ahead of him.

Feel bad for that young man.

10

Are any of the prospects over 7 feet tall? Beene going to the moon!

I'd venture a guess that if they knew they were going to get Basham in the second they would have gone elsewhere in the first, maybe corner, or it would have allowed them to move back out of the spot and pick up some goodies. When it turned out Basham was there in the 2nd they stayed true to their board and took him as the BPA. I like focusing on the lines and I like picking players with big upside late in day two and day 3 rounds trying to hit it big on one. We'll see how they develop. If the WR from Houston can play fast in the pros, might allow then to move on from Andre Robert's and redeploy the cap $s elsewhere. needed to get depth at safety as both Poyer and Hyde are 30 and that was accomplished too. Solid draft getting so many high upside guys with what they had, but no surefire impact players. B that could turn into an A if the the guys develop on the line develop.

dont disagree, although we drafted Epenesa last year and have a few young corners. DE will be even more glaring after this year as Hughes will be in the twilight. I think the sneaky big youth/depth issue might be at safety but its not on peoples radars yet bc Hyde and Poyer are locked-in. That is going to creep up very quickly though as both are now 30 years old.... Losing Dean Marlowe really hurt us.