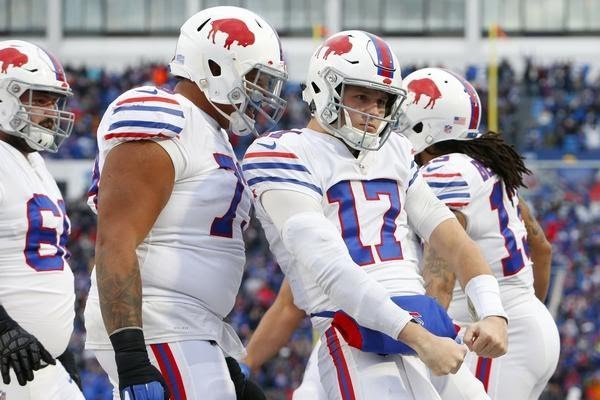 Content Count

230

Joined

Last visited
Community Reputation
103
Excellent
Josh's running ability makes the no huddle interesting... if you dont fool the D, or if the execution of a play gets sloppy with the WRs due to miscommunication at the line, he can still run on busted plays and make big gains.

To be clear I am very excited for Oliver. That said its worth pointing out Kyle Williams totaled 6sacks or more once in his career.

100% agree, set to become the most interesting division in football. Also the AFC as a whole includes those 3, plus Mahomes, Luck, D Watson, L Jackson... balance of power has shifted heavily to AFC for years to come potentially

https://texanswire.usatoday.com/2019/04/23/3-teams-benefit-trade-texans-jadeveon-clowney/ suggests swapping 1sts w HOU and add in a mid round pick or two...

in the 10 threads on this already, everyone seems to hate him (just another Mario, overpriced, injured, all potential no real game). i couldnt disagree more. Sign him, draft an OL in the first, and our lines are ready to roll.

DK Metcalf says who needs LBs when you score 40 a game.

I no longer can take mcshay and haven't liked Mel for a while bc he is just too arrogant / smug. I like rich eisen and will miss mayock.

THE RUSSIANS HAVE INFILTRATED THE DRAFT ROOM!!!

I think you highlight the depth chart holes correctly and that will drive this draft. The previous two drafts were so active because they were both about the QB...2017 was about getting the additional 2018 1st, and 2018 was about moving whatever you could to get Josh Allen. This year I expect to be very different. I suspect they will sit tight and take the best player that fits the holes you highlighted. Given the sheer numbers at OL currently open the team, I think the first two picks will be DT and TE, or TE and DT. I wouldn't be shocked if they moved back up into the back of the 1st round for their second pick, but I generally expect them to stay at 9. My guess is Ed Oliver and Fant or Irv Smith Jr. I would be supportive if they took Hock at 9 and then moved back up for a DT in the 20s if someone falls. Also agree w @glazeduck, I think they have to come away w a RB, but I hope they go for it earlier in the 3rd or 4th.

i have a different view vs the group on this one. Clowney has been to 3 consecutive probowls in 4 yrs of play (not counting his lost to injury rookie season). hes 26 years old. Not only is he consistent at a good level, he also has game changing ability. Our defense is very solid and adding a playmaker on the defensive side of the ball could put it way over the top. The proposed trade would finish off the defense and allow the team to keep stockpiling young offensive talent around JA. A flip w HOU for Clowney would allow us to take Fant or Irv Smith, or one of the WRs. We also could jump up from that spot and back into the teens if one of the OL (Jonah Williams please!) or Hock slid for whatever reason. Some have said in a draft w this much DL talent, why would you do this? You would bc we cant trade back from 9 to pick up an extra offensive 1st rounder while still getting a blue chip defender. If we trade back (lets say w OAK), we would be looking at a 2nd tier DT, where as with this scenario we would net a pro bowl end who can be moved around on the defense. From a flexibility standpoint, this helpos us bridge the gap past Lorax or allows us to move on from Shaq if needed, so helps us deal with turnover beyond just this next year. we have tons of money to spend so i dont think griping over value applies here. As long as JA remains on his rookie deal, we should have plenty of $ to spend for the foreseeable future. When JA comes off the rookie deal, you can let Clowney move on or you can at that point start getting home town discounts on people staying bc we hopfully will be in the perennial SB contender list at that point.

Adding to intrigue... was mcd in contact w beane at all? Did he know the petulant were going to pursue beane, was that part of his deal coming on board?

Not exactly a conspiracy but I will forever wonder whose picks and trade down decision it was in 2017... great draft class, traded out of mahomes for tre white... how much did Whaley influence things. If none, then McD would have drafted himself almost blind? Where did he get his scouting reports if he didn't rely on whaleys? Tre white, z Jones, Dawkins, Milano... a good class. also adding to intrigue is that peterman was taken... if he was mcDs choice, maybe that explains why he got SO many chances... would love to have been in the draft room and seen 2017 unfold.

based solely on the first two picks as i don know most the other players i would take #1. I know there is a love fest for Hock, and i would be happy to have him, but Irv Smith Jr is pretty darn good too and pick 9 in the second round is steal for him. Pick 9 in the first round is probably a steal for Ed Oliver too. That said, id say in mock #2 i love the pick of Bryce Love wit the 2nd pick in the 5th... a 2000+ yd, 19TD runner pre injury, its boom or bust pick but if you get it wrong, you can address RB next year in the top 3 rounds if you wanted. If you get it right, you have a major steal.